Course details
■ Room 12 Lunch Limited Party Course C 【2000 yen】 (7 dishes) ※ Drinks are not included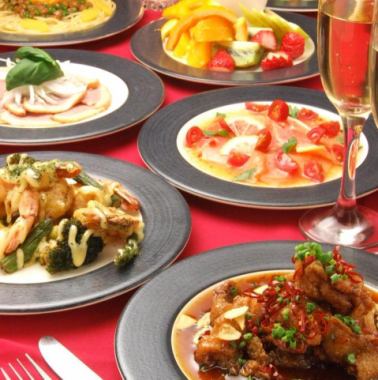 2000 yen
※ Plus 600 yen with 20 kinds of nonaldrink, with 1200 yen with 200 kinds of all you can drink (90H)
Reservation deadline

Until 22 o'clock the day prior to the desired shop visit date
Available days for reservation

Monday - Sunday - Public holidays - Holidays
We will start lunch time sales which was requested in Room 12 from 2016.Italian-centered courses using fresh ingredients purchased on that day are available for 7 items at a reasonable price of 2000 yen.Drinks are also available from single items, plus 600 yen for 20 non non alcoholic beverages, plus 1200 yen for 200 kinds of drinks you can order.I am waiting for your lunch party or birthday party reservation.
Course menu
【1,800 yen B course】 Cooking content
■ Today's TAPAS & Pinchos
■ Today's raw spring roll
(Salmon & Avocado etc.)
■ Fresh fish carpaccio
■ Today's oven dish
(Thinly baked pizza margherita · natural yeast bread garlic toast etc.)
■ Today's main meat dish
(Thai style chicken · chicken's honey mustard etc.)
■ Today's daily changing pasta
(You can choose from four types of oil, cream, tomato, Japanese style)
■ Today's daily dessert
(Earl Gray tea cake · melting raw chocolate cake etc.)
※ Please note that the food content may change depending on the ingredients purchased.
2018/12/03 update